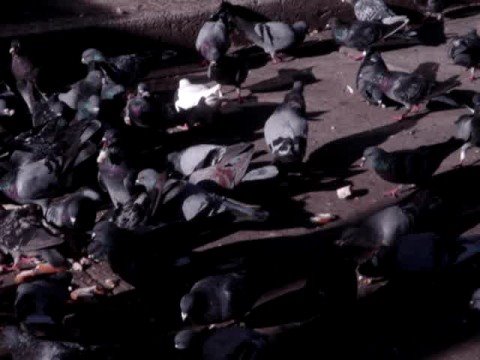 Q.  I live on the third floor of a co-op in Washington Heights.  The lady below me on two throws piles of bird seed out her window every morning to feed the pigeons.  At first I didn't say anything.  There were only a few and I figured if it makes her happy, I could live with a little billing and cooing.  But word must have gotten out in the pigeon community and now there are whole families or flocks that fly in from nowhere as soon as she opens her window.
It's disgusting.  And unsanitary. They shit all over the sidewalk. Their feathers fly up into my apartment.  I don't know if they're mating or fighting or just having a good time, but I'm not — they make so much noise they wake me up. And I'm sure they're carrying diseases that could cross over from pigeons to people.
I asked her a few times to please stop feeding them or to scatter her birdseed somewhere else, but she just laughed, and said didn't I know that pigeons, like all birds, are really modern-day dinosaurs, and don't I want to help preserve the species.  I think she's a little weird,   maybe more. And to get even, she got a bigger bag of feed. I saw it in the package room the other day next to the Fresh Direct boxes when I went to pick up my cleaning.  Help!  Feathered in Washington Heights
A.  The first thing you need to know is that there's been an evolution in the perception of pigeons.  Not so many years ago they were universally despised. Companies sprung up devoted to eradicating pigeon populations with poison or electric coils or slippery substances placed on window sills.
But now that all living creatures – even roaches — are considered part of the family of man, so to speak, pigeons are getting new respect. Websites like Pigeon Talk and New York Bird Club extol the virtues of the pigeon. As recently reported in the Wall Street Journal, groups dedicated to protecting pigeons from being captured and sold for use in shooting competitions have sprung up. June 13 has been declared National Pigeon Day (unofficially for now).
That doesn't mean you should have to tolerate hordes of pigeons under your nose , though according to The Department of Health, it's unlikely you'll get any diseases from them. But whereas once you could have been Rambo-like in pursuit of your cause, I'd suggest you take a more reasoned approach that balances the rights of man and beast, excuse me bird.
There is no law that makes pigeon feeding illegal per se. The Parks Dept may post notices prohibiting feeding in certain areas under its control, but that won't help solve your problem because you live in a co-op, not a public playground. It's possible, though unlikely, that scattering bird seed would be deemed littering under the Sanitation Code, because usually the pigeons eat the stuff so fast it's gone before it can be considered trash.
You can call 311, and report your neighbor to the DOH. Even though it's not illegal to feed pigeons, if the situation is creating an unsanitary condition they will come and inspect and may issue a fine.
Most likely you don't need government invention because the House Rules of many buildings have a provision that specifically says no pigeons or other birds shall be fed from the window sills so the board should take action if the situation gets out of control
And if none of that works, I just read there's a new pigeon contraceptive available online without a prescription that is safe and effective – but you didn't hear it from me
Tags: House Rules, pigeons
3 Responses to "What Do I Do About The Pigeon Lady?"